Environmental Sustainability & Energy Usage in Buildings-Part X & XA
(Energy Efficiency)
In 2011, in an endeavour to make our buildings more sustainable, and to decrease energy usage in South Africa, a new part was added to SANS 10400, The application of the National Building Regulations. Part X deals with environmental sustainability, and Part XA deals with energy usage in buildings.
In many ways these new regulations have turned the building industry upside down, but not in a bad way. However for the average man-in-the-street it has become a puzzle of note. Every week we get people writing into this web site asking for advice and information about the "new energy laws" and how they affect their building and renovations.
On the down side, it seems that new regulations have opened up a can of worms that has less-than-knowledgable people (and some scamsters) flippantly quoting "the new green laws" in an effort to force people to spend more money than they need to on energy-efficient materials, appliances and the like. While there is no doubt that we need to "go green" and get our act together (pun intended) in terms of energy efficient building, it is also important to know the difference between what we should do, and what we must do to comply with the National Building Regulations and other national standards.
What the National Building Regulations and
Building Standards Act Says
While the Act was originally passed in 1977 (officially it's Act 103 of 1977), a number of amendments have been added to it over time. In 2011, Rob Davies, the Minister of Trade and Industry added the sections that relate to environmental sustainability and to energy usage in buildings.
The motivation for this amendment is to reduce greenhouse gases caused by buildings and extensions to buildings. These relate to a number of specific occupancies that are defined in Part A of SANS 10400, namely:
A1 – Entertainment and public assembly Occupancy where persons gather to eat, drink, dance or participate in other recreation.
A2 – Theatrical and indoor sport Occupancy where persons gather for the viewing of theatrical, operatic, orchestral, choral, cinematographical or sport performances.
A3 – Places of instruction Occupancy where school children, students or other persons assemble for the purpose of tuition or learning.
A4 – Worship  Occupancy where persons assemble for the purpose of worshipping.
C1 – Exhibition hall Occupancy where goods are displayed primarily for viewing by the public.
C2 – Museum Occupancy comprising a museum, art gallery or library.
E1 – Place of detention Occupancy where people are detained for punitive or corrective reasons or because of their mental condition.
E2 – Hospital Occupancy where people are cared for or treated because of physical or mental disabilities and where they are generally bedridden.
E4 – Health care Occupancy which is a common place of long term or transient living for a number of unrelated persons consisting of a single unit on its own site who, due to varying degrees of incapacity, are provided with personal care services or are undergoing medical treatment.
F1 – Large shop Occupancy where merchandise is displayed and offered for sale to the public and the floor area exceeds 250 m2.
F2 – Small shop Occupancy where merchandise is displayed and offered for sale to the public and the floor area does not exceed 250 m2.
F3 – Wholesalers' store Occupancy where goods are displayed and stored and where only a limited selected group of persons is present at any one time.
G1 – Offices Occupancy comprising offices, banks, consulting rooms and other similar usage.
H1 – Hotel Occupancy where persons rent furnished rooms, not being dwelling units.
H2 – Dormitory Occupancy where groups of people are accommodated in one room.
H3 – Domestic residence Occupancy consisting of two or more dwelling units on a single site.
H4 – Dwelling house Occupancy consisting of a dwelling unit on its own site, including a garage and other domestic outbuildings, if any.
H5 – Hospitality Occupancy where unrelated persons rent furnished rooms on a transient basis within a dwelling house or domestic residence with sleeping accommodation for not more than 16 persons within a dwelling unit.
But they specifically EXCLUDE garage and storage areas contained within these specified occupancies, as well as a number of other buildings that are used for commercial, industrial and buildings used exclusively for a variety of storage uses.
The law (because this is part of the Act – not SANS 10400) states that these "occupancies" (types of buildings) must be:
capable of using energy efficiently while fulfilling user-needs in relation to various things including thermal comfort, lighting and hot water; OR

have a "building envelope and services" that facilitate the efficient use of energy that is appropriate to the function and use of the building as well as its geographical location and its internal environment.
So it is not a one solution fits all situation. For instance, what works for a house in Durban may not make the same structure energy efficient in Cape Town! In addition, the legislation excludes the "equipment and plant" required for conducting business – if the building is used for business.
Hot Water Heating Requirements
XA2 requires that at least a half – "50% (volume fraction) of the annual average hot water heating requirement shall be provided by means other than electrical resistance heating including but not limited to solar heating, heat pumps, heat recovery from other systems or processes and renewable combustible fuel".
So you can use a conventional geyser IF you meet the 50% requirement. And if you are renovating, you certainly don't have to toss all your existing water equipment and go solar – even though there is absolutely no doubt that it's the way to go.
What is Required
The orientation, shading, services and building envelope must be designed according to SANS 10400 Part XA. Alternatively the rational design of the building must be done by a competent person who "demonstrates that the energy usage of such building is equivalent to or better than that which would have been achieved by compliance with the requirements of SANS XA, or has a theoretical energy usage performance, determined using certified thermal calculation software, less than or equal to that of a reference building in accordance with SANS 10400 Part XA".
If you're looking to change jobs, becoming a person competent to specify these requirements is one way to go! It is something that is not easy for someone who hasn't got the relevant training to get their head around.
What 10400 XA Says
As with all national standards, 10400 XA has a number of definitions, some of which are in the glossary that is part of the Act.
A few of the important definitions that relate to this particular part of the standard are:
Building envelope Elements of a building that separate a habitable room from the exterior of a building or a garage or storage area 
Competent person Person who is qualified by virtue of his education, training, experience and contextual knowledge to make a determination regarding the performance of a building or part thereof in relation to a functional regulation or to undertake such duties as may be assigned to him in terms of the National Building Regulations
Fenestration Any glazed opening in a building envelope, including windows, doors and skylights
Fenestration area Area that includes glazing and framing elements that are fixed or movable, and opaque, translucent or transparent
Requirements of 10400 XA
The requirements of this new national standard cover:
Hot water supply

Energy usage and building envelope
Design assumptions
Building envelope requirements
The standard also defines the different climatic zones of South Africa.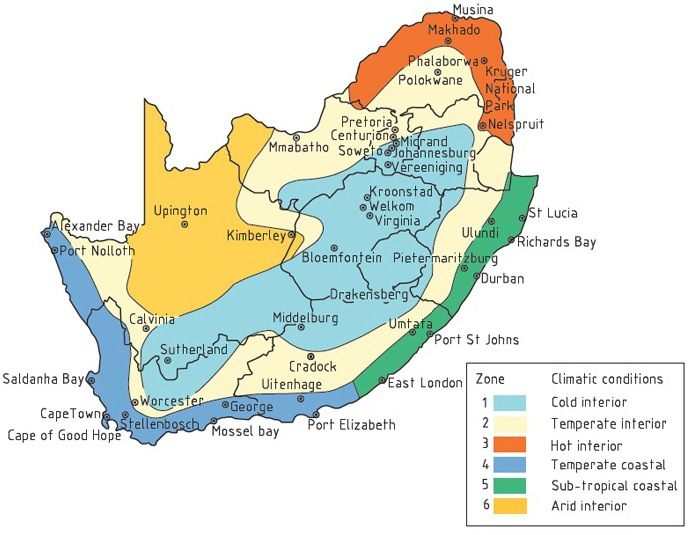 To be a little more specific, the main centres for each zone are:
Zone 1 – Johannesburg and Bloemfontein

Zone 2 – Pretoria and Polokwane
Zone 3 – Makhado and Nelspruit
Zone 4 – Cape Town and Port Elizabeth
Zone 5 – Durban, Richards Bay and East London
Zone 6 – Kimberley and Upington
Building Envelope Requirements
This is probably the most vital part of the new regulation, and it addresses orientation, floors, external walls, fenestration, and roof assemblies – but not in a lot of detail.
Floors
If any type of underfloor heating system is used in a home, this must be insulated under the concrete slab with insulation that has a minimum R-value of at least 1,0. The R-value is the thermal resistance (square metre K/W) of a component. According to the Standard, it is "the inverse of the time rate of heat flow through a body from one of its bounding surfaces to the other surface for a unit temperature difference between the two surfaces, under steady state conditions, per unit area".
Roof Assemblies
Any roof assembly must achieve a minimum R-value for the direction of heat flow. This is specified in several tables in the regulations.
---
Water Reticulation System
Water Reticulation System: Knowing the Facts
Pretty much every city and suburb has a water reticulation system. Water reticulation system is the terminology used n South Africa, Australia and New Zealand referring the piped water network. When you turn on the tap in the bathroom or kitchen you have instant access to a pure, clean water supply. It's often taken for granted on how it gets there and who has to install it so that you have water on demand.
The Path of a Water Reticulation System
When you want to brush your teeth you open the tap. When you want to wash the dishes you open the tap. When you want to water the garden, you open the tap. Every time you get a good flow of clean water. But how does it get there? The water supply has to be collected, treated and then distributed through a water reticulation system. Let's look at it briefly:
Water collection – Water has to be collected from a source. Most commonly the water supply comes from surface water, from a river or lake. It can even come from an underground source like a well or underground aquifer. Officials install pipes which transfer the water to a water treatment plant.
Water Treatment – It is a global policy (by the WHO: World Health Organisation) that all large systems of water needs to be treated before it reaches consumers. The water from the water collection source needs to be purified, which broadly consists of three steps:
Clarification – Particles like dirt or organic matter are separated from the water. Chemicals like ferric chloride are added to destabilise the particles.
Filtration – Next the water needs to be filtered to remove smaller particles. This is achieved through a sand, anthracite or activated carbon filter.
Disinfection – The most preferred method of disinfection is through chlorine addition. The chlorine kills bacteria as well as any viruses. This serves to protect the water as it travels through the water reticulation system.
Water Reticulation System – This is basically the water distribution network and once the water has been collected and treated it needs to get to the consumer. Water is supplied today most commonly through an infrastructure of pipes. These pipes are most commonly constructed from plastic, metal (ferric) or concrete. Water is delivered by making use of the scientific principles of pressure and the energy created delivers the water to its destination.
The water delivery systems are mostly owned by local government and these networks are part of the planning when communities or municipalities set up residential areas. It requires design and planning and city planners and civil engineers are hired to work out all the details before crews install. Factors come into account like pipe size, location, future expansion, possible leakage, pressure factors and access for the fire department.
Maintenance is the final factor in keeping the water flowing to consumers. Water networks require constant monitoring and if there is a problem it needs to be fixed. Not only is it a customer service priority, but with areas that suffer droughts, water cannot be wasted. There is a big focus on the ecology and many city councils have drives on not wasting water. In some countries there are even water restrictions during times of low supply.
A water reticulation system is vital in getting water all the way from the source to the consumer. Many people play a role whether is the supply or simply to install pipes. Next time you open a tap, think of the long and intricate route the water has followed.
---
Specialist That We Use:
Company: Debcal
Contact: Dino Vieira
Tel: 031 701 2727
Website: www.debcal.co.za
Address: 39 Fernleigh Rd, Kloof, 3640
Category: Energy Efficiency & Water Reticulation Specialists